Traditional Oak and Timber Co. offer a wide range of services and finishes throughout the whole process of purchasing any of our oak products. From the cleaning and treatment of our oak to delivery worldwide, we are keen to give you exactly what you are looking for and make dealing with us as pleasant as possible.
Tools of the trade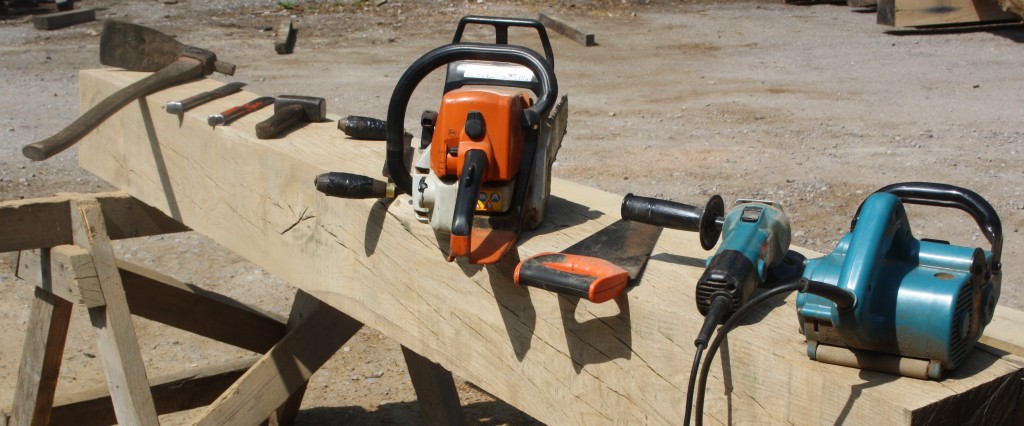 Other than cutting the larger section oak beams on the bigger band saws, all of the work carried out on the beams is by hand. We use modern and traditional methods together to give you what you want from your oak. Beams can be cleaned, de-nailed,  sanded, washed, wire brushed, glass blasted, hand chamfered, treated and waxed.
---
Hollowing beams out
Hollowing out oak beams can cover piping, cables and even RSJs. As you can see from the pictures we are able to hollow both reclaimed oak and air dried oak beams. The middle of the beam is cut with a chainsaw and then hand chiseled away. We leave at least 25mm(1″) of the beam thickness to ensure strength in the beam.
This process means we are able to supply beams that totally encapsulate rather than have to be joined together. The pictures show both beams have been cleaned, the air dried beam has been sanded and the reclaimed has been washed and wire brushed. It's not a fast process but at Tradoak we pride ourselves on doing the job right.
---
Sanding oak beams
Here you can see an air dried oak beam being sanded down. This brings the light oak colour out and allows the grain to show.  More rustic air dried oak beams have splits and cracks from natural movement, so when sanded down it shows the character of the wood. Sanding is also available on reclaimed oak beams to remove any loose dried sap wood from the surface.
Here you can see the air dried oak before and after the sanding process. When the oak is air drying the natural elements and weather give it that silvery finish.
---
Waxing beams
Here you can see air dried oak before and after waxing. As cleaned air dried oak has a light colour it is almost like a blank canvas, meaning you can get it to look how you want it.  We have varying waxes from almost clear to dark oak.  Reclaimed oak can also be waxed, but the older oak is already very dark in grain, so a wax really compliments the beam with a slight shine.
We are also available to treat all our oak products with anti infestation treatment, this helps protect the timber but also gives piece of mind when installing oak into your property.
---
Chamfering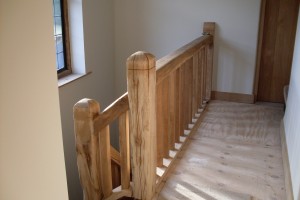 With air dried beams we are able to lose the sharper corners by chamfering. This is done by hand to give an aged look of the oak, or more regularised to give stop chamferes.
This set of stairs was fabricated from air dried oak. We then chamfered all edges by hand to give the stairs a more aged took to be in keeping with other parts of the property.
---
Delivery
At Traditional Oak pride ourselves on customer satisfaction and a personal touch. Our delivery service means you have the peace of mind to get the product you want when you want it. From small pieces to full arctic trailer loads.
With orders of oak beams and oak products when time is not on your side we deliver 7 days a week! So if you need supply ready for a Monday morning, we will get it there, at no extra cost above standard delivery.
We also stress that delivery is not our business, so we never charge more than it costs us to deliver. We would rather you enjoy the oak products supplied by us than worry about the cost of getting it to you!
---
Oak Beam Finishes
Oak can be finished in many ways, just let us know the look you are after when you contact us an we'll make sure it fits the look and feel needed for your design
Call us now on (01825) 723648 or complete our contact form and we'll be happy to give you a free estimate