Specialising in Oak Beams
Visually stunning, sustainable wood that ages well over time that gives every project that timeless appeal.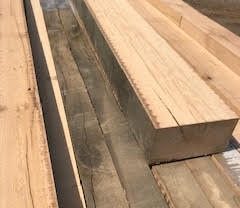 Oak has been used in construction since the middle ages. As the timber ages, it acquires more character through small splits known as 'shakes' that give the wood a rustic worn-in look and delightful distinct scent that is unmistakable. You'll also find that light diffuses differently in a room with wooden beams, giving a softer glow compared to sharp light that refracts from steel or concrete beams.
Oak becomes stronger over time and is resistant to insects, rot and has even been proven to retain its shape in the event of a fire. This is because despite being a high density wood Oak is permeable, which means it 'breathes', allowing moisture to pass through the timber.
Different types of Oak Beams
Oak is an incredibly versatile wood. It can be fabricated into a variety of styles, allowing you to customise your space. Whether you are going for a rustic aesthetic with chunkier, untreated air-dried or reclaimed timbers, a smoother, more modern look, or even a mixture of both, you can match it to your style. Types of oak beam on offer:
Sustainable and full of character, these beams are ideal for a project that requires a more rustic look.
Excellent for precision projects, as the air drying process removes much of the natural shrinking that you find in Oak Beams.
Designed to give the appearance of a solid beam where one might be too heavy or to conceal unclean finishes.
This style of oak beam is intentionally fabricated for larger framing projects, the construction of new buildings or structural add ons.
Looking for Oak Beams for Your Next Project?
Our team of oak experts is here to give a quote or some free advice
At our Sussex timberyard, we have one of the largest selections of rustic oak beams for sale in the UK. If we don't have the right beam for your project we'll fabricate a replacement until the perfect beam comes into stock.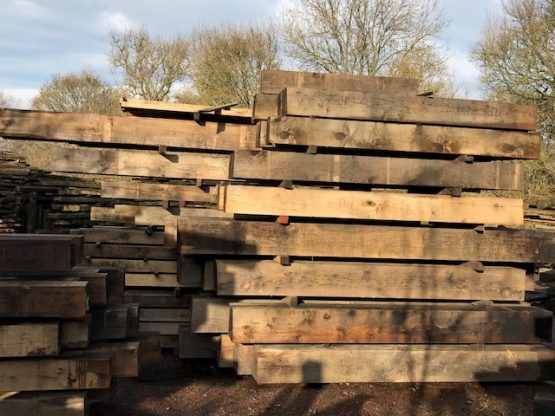 Why are oak beams so strong?
Oak becomes denser and denser over time creating more durability and strength as time passes.
Do you ship internationally?
Yes, we can ship all our oak beams internationally.
I would like to visit your yard, what is the best time to come, and do you close for lunch?
We do not close for lunch; you would be more than welcome to visit any time within our open hours.
Can I buy just one small piece of oak or do you only sell oak frames?
We produce bespoke oak products from window sills to frames. We would be more than happy to help you with your project regardless of the size.
Can I buy just one small piece of oak or do you only sell oak frames?
Could I come and select the beams I want?
Yes, with a little notice you would be welcome to visit and with the help of our staff select the beams you prefer.
What are your opening times?
7.30am to 5pm Monday to Friday (weekends if booked in advance).
Can you help me design my project?
Absolutely! Our oak experts have been helping folks design their perfect oak project for years. We can even create a 3D rendering of your project so you can see the completed look.
Get a quote and bring your project to life
Let's talk oak!
The Old Woodyard,
Bluebell Business Estate
Sheffield Park,
East Sussex,
TN22 3HQ