Here at Traditional Oak and Timber co, we've got one of the biggest selections of oak beams for sale in the UK. We invite you to have a look at some of what we've got and see if your home or next project would benefit from the addition of beautiful oak timber.
Oak beams for sale direct to the Public & Trade across the UK
Call us on (01825) 723648 or complete our contact form and we'll be happy to give you a free estimate and our first hand advice

We offer a large selection of different types of oak beams in the UK to match your needs:
Reclaimed Oak Beams
Reclaimed oak beams are always popular, and as one of the leading oak suppliers in the UK today, we have a large stock that can be used in any environment, from small beams to much longer and more complex installations. We source the best reclaimed oak beams we can find – usually from old houses and barns – so that you get that real authentic look and feel, not an imitation.
Air Dried Oak Beams
Another option are air dried oak beams. These are typically used in construction projects, but some people also choose them to add aesthetic elements to a building. As the name suggests, they're cut to size and left to dry in the air, so the moisture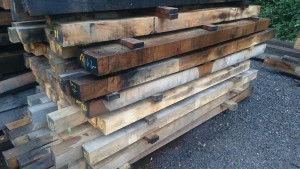 in the wood is reduced. During this process, the oak naturally shrinks and cracks, creating pleasing looks of natural character.
Oak Beams for Fireplace and Mantels
Here at Traditional Oak and Timber, we're not just about roof or ceiling beams. We also manufacture fireplace beams and mantels, which look wonderfully rustic in any room and make it all the more enjoyable to spend time in. We can deliver an oak mantel in a matter of days and provide options on how to fit it, as well as advice about how to look after it so that it lasts. For added effect, you can add light fittings to your oak mantel, and we're able to make the mantels to whatever specifications you want.
Delivery across the UK and internationally
You can get oak beams direct to your door in no time by getting in touch with us right now – and getting an amazing new look for your home, with amazing prices, too.
Call us now on (01825) 723648 or complete our contact form and we'll be happy to give you a free estimate