We have very large stocks of air dried oak beams available for national or international delivery. Our beam quality structural timber comes in a huge variety of sizes and is perfect for aesthetic or constructional use and bespoke projects.
For a free estimate, plus some expert advice on how best to use air dried oak beams for your project, call us on (01825) 723648 or complete our contact form.
Air Dried Oak Beams and Posts
We have a vast selection of air dried oak beams in stock at our Sussex timber yard, with a range of sizes from small 1 inch boards to chunky 12 inch square beams. Beams can be purchased as they are, or sawn and prepared to suit your specific needs.   Preparation services such as sanding, waxing, hand-working and stop-chamfers are all available. See our finishes page for more information.
Our air dried beams and posts are perfect for a diverse range of applications, including:
Structural or aesthetic feature beams
Cladding
Garden structures
Fireplace beams
Casements
They are all well seasoned, so the quality and durability is guaranteed.
We also stock joinery-quality air dried oak that's perfect for use in interior work and both indoor and outdoor furniture.
What is Air Dried Oak?
Air dried oak is green oak that's been cut to size and left out in the air to dry naturally. It is also known as semi-seasoned oak.
When oak is green – that is, freshly cut – it has a high moisture content. Oak shrinks as it dries. When green oak is used in construction, the joints in the frame have to be specially designed so that the weight of the build settles as the oak dries, shrinks, and moves.
So green oak is perfectly suited for use in new build constructions. But when you're fitting new beams into your home for aesthetic reasons, this movement can cause problems.
This is where air dried oak beams come in to their own. These beams have done most of their shrinking in the air. When they're fitted to an existing frame, the amount of movement will be minimal. As oak is a natural material, air drying doesn't eradicate movement entirely.  However, it does significantly reduce it, allowing you to fit air dried oak beams to your home with total peace of mind.
Another benefit to air dried oak is that as it dries and shrinks, small splits and cracks form in the timber. This adds plenty of natural character without compromising the oak's innate resistance and durability. Therefore, air dried oak is a very popular choice for aesthetic beams,  oak framing and building furniture.
Using Air Dried Oak for Furniture
Many people admire the naturally aged look of air dried oak with its characterful cracks and splits. Moreover, this authentically-aged appearance comes without compromising strength, integrity, or durability. As such, air dried oak is a popular choice for use in furniture.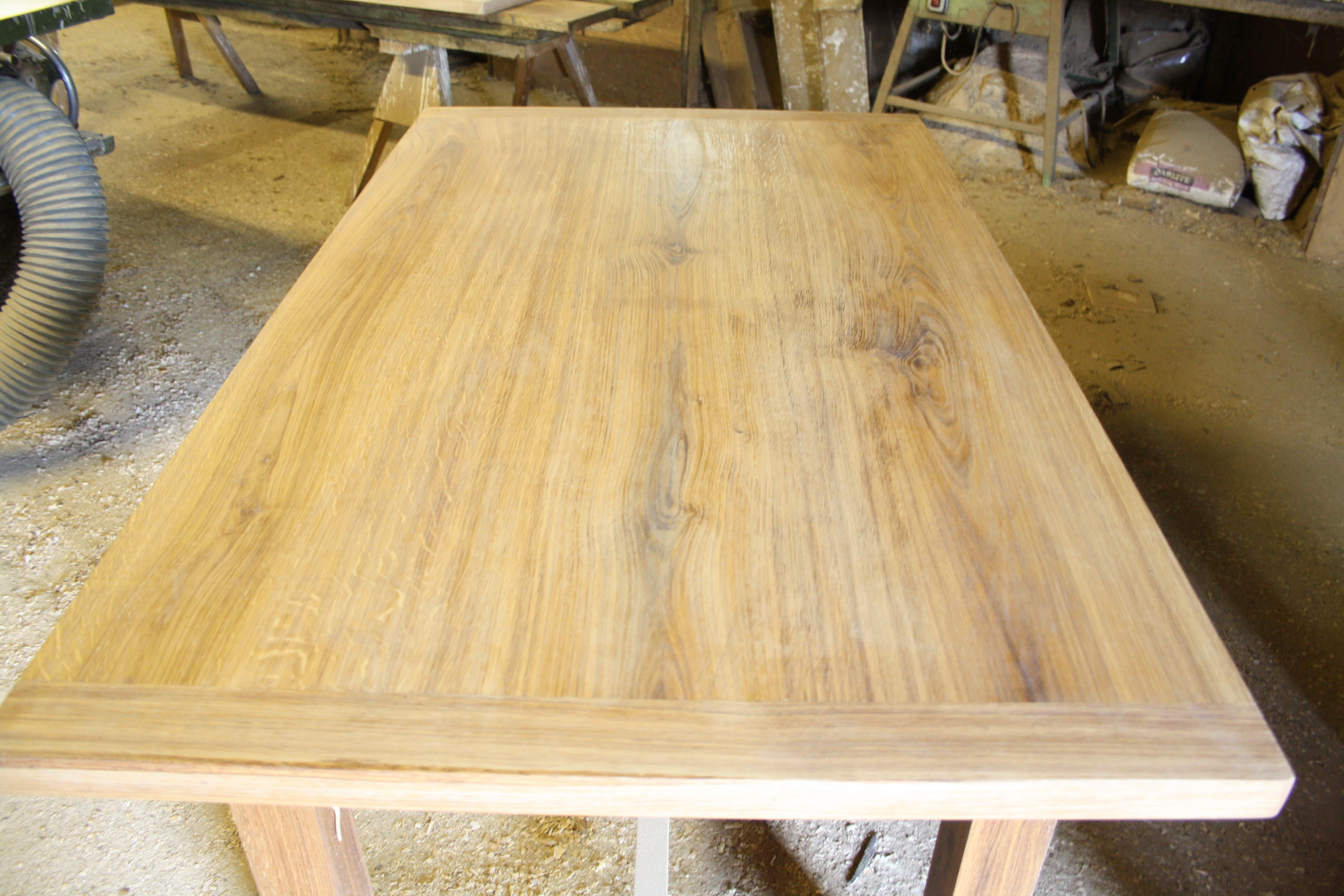 We have air dried oak planks, beams and boards in sizes suitable for a diverse range of furniture projects, from dining room tables to shelving. We're sure to have the perfect timber to make your project come to life.
Prices – How Much Do Our Air Dried Oak Beams Cost?
The amount you pay will vary depending on the size and complexity of your project, as well as any additional services, finishes and effects that you require.
Every piece is priced by the cubic foot, so you'll pay for the volume of timber. If you want something in a non-standard size, it may have to be cut from something larger. We will choose the most cost-effective way of supplying the timber..
Delivery across the UK and internationally
You can get air dried oak beams delivered direct to your door. Our delivery service is as bespoke as our supply service – we'll tailor a solution based on your specific needs.
We make our deliveries as efficient and economical as possible. Smaller beams can be dispatched to your door using a courier. If we're delivering a lot of timber across a larger distance, we'll either use our own vehicle and driver or a specialist haulage firm, depending on what works best in terms of time and cost.
Get an amazing new look for your home at a very competitive price. Contact us today for a free quote and some expert advice on how to make your project a lasting success.
For a free estimate, and for our expert advice on finding the perfect air dried oak beams for your project, call us now on (01825) 723648 or complete our contact form.