Structural Oak Beams and Boards
Designed to withstand the test of time, our structural oaks timber offers exceptional strength and structural integrity.
Why Structural Oak Beams and Boards?
Structural oak beams are incredibly strong and durable and can be used internally or externally on any building. When it comes to structural oak beams you have two choices: freshly cut green oak and semi-seasoned air dried oak.
Freshly cut green oak is suitable for a lot of projects, especially new builds such as garages and extensions. But because green oak shrinks as it dries, it can present problems in the long-term when used in existing rooms and as part of existing structures. As green oak dries over time, cracks and splits naturally form in the surface of the wood. This results in an authentically rustic appearance that will add heaps of character to any room.
Semi-seasoned air dried oak have already done the majority of their shrinkage in the air, under no pressure. So when they're fitted to an existing frame, the amount of movement will be minimal. As oak is a natural wood, air drying doesn't eradicate movement entirely. But it does significantly reduce it, making air dried oak an ideal choice for structural beams.
Interested in Structural Oak Beams?
Contact us today for expert advice on how to make your project a success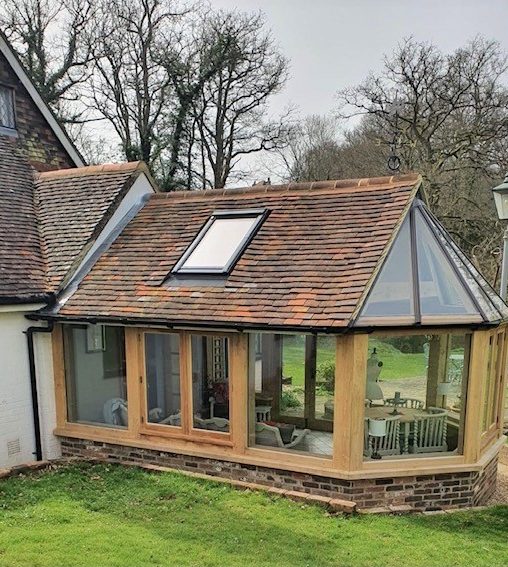 Along with the highest quality timber, we can give you the advice you need to ensure your project is on the right track.
The team at TradOak has been working for years to support our customers with a variety of different structural oak projects. Whether you are renovating your home or designing a commercial space, our structural oak beams provide the perfect blend of functionality and aesthetics.
Whatever your project our team will work closely with your architects and structural engineers, to ensure your project is built to last.
Our Structural Oak Beam Stock
Discover the perfect balance of quality and style with our exceptional range of structural oak beams. We provide a full range of services and finishes for our oak beams, including cleaning, anti-infestation treatment and a varied selection of wax and colouring options.
We offer 6X6, 6X4 timber and a variety of other sizes. If we don't have the perfect structural oak beams readily available in our yard, we can machine and fabricate precisely the timber you need for your specific project.
1. Do you offer site visits?
Yes, we would be more than happy to come and visit to help, discuss, and give advice on your project. (Depending on location)
2. Do you have any examples of structural projects that you've worked on?
We do! Here are just a few examples, if you're looking for something specific please reach out. We've worked on many different projects and styles of buildings over the years.
Get a quote and bring your project to life.
Let's talk oak!
info@tradoak.com
The Old Woodyard,
Bluebell Business Estate
Sheffield Park,
East Sussex,
TN22 3HQ