Here at Traditional Oak and Timber Co, we have one of the biggest selections of oak beams for sale in the UK. We invite you to have a look.
We know that a personal touch and some friendly help goes a long way in cultivating your building projects. No matter how small – or large your project is we can supply you with the oak timber you require to help your vision come to life.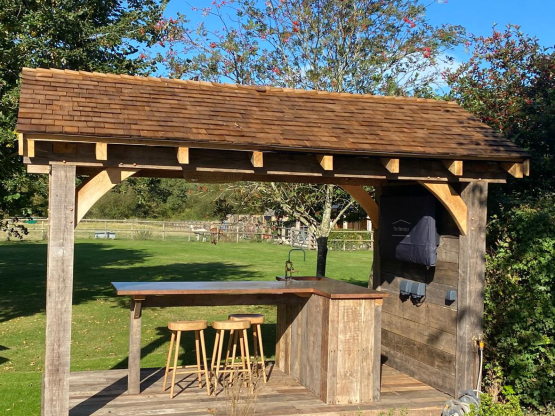 Traditional Oak and Timber is a small family-run business located in East Sussex. Our founder, Neil, sources all our wood himself from across Europe. We use traditional drying methods and work very closely with architects, structural engineers, our local community and you to make sure every project is a success.

Have questions? Give us a ring at 01825 723648.
The Old Woodyard,
Bluebell Business Estate
Sheffield Park,
East Sussex,
TN22 3HQ
This large oak framed sun room was designed and fabricated in air-dried oak to give a beautiful rustic appearance, but also give the frame the stability to encapsulate glazing directly into the oak components
This 3-bay carport frame was designed, fabricated and sanded at our yard in Sheffield Park and then delivered to the site in a kit form. The frame was supplied with pegs and the instruction drawings to put the beams together.
These staircases and porches were built from air-dried oak to give a beautiful rustic appearance, reduce movement in the oak, and complete the superb look of the property
How much does the oak cost?
Our costing is straightforward. Firstly, all the oak supplied is calculated by volume and priced per cubic foot. Then, any additional work is costed per process, depending on what you require, eg, cleaning, sanding, shaping, waxing, plus VAT.
When do I have to pay?
For small items, it is usual to pay the full amount before any work begins, as each piece is bespoke, and once the timber is cut, it is not always possible to reuse it for anyone else. For larger projects, such as oak frames, a deposit is taken and the final balance is paid strictly upon practical completion.
Do you allow personal visits to the yard?
We welcome personal visits, when we can show you around, and get a clear understanding of your requirements, and give you plenty of advice if you are unsure about anything.