At Traditional Oak and Timber, we specialise in the supply and delivery of reclaimed oak beams. Whether you need a single length for a furniture project, or enough to build your own barn, we can supply the oak to get the job done.
Call us on (01825) 723 648 or complete our contact form and we'll be happy to give you a free estimate.
Reclaimed Oak Beams for Any Project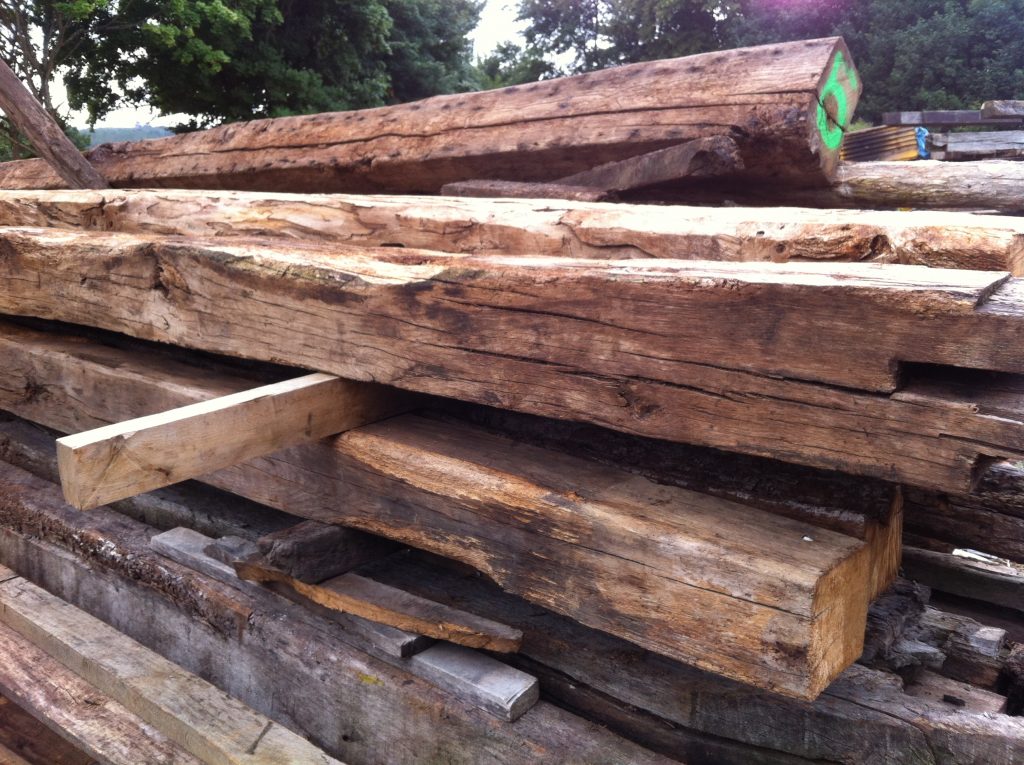 We have one of the best stocks of reclaimed oak beams in the U.K. They come in a variety of sizes, from small pieces to 11 metre beams. Most of our beams are salvaged from farm houses, churches and barns from across Europe. So every bit of timber you use will be rich in its own unique history.
This is wood that tells a story. Our reclaimed oak looks old because it is, and not because it's been made to look that way. All of our reclaimed oak beams are chosen by hand to suit each bespoke project. We can guarantee that the reclaimed timber you buy will be totally fit for purpose, and everything you build will be built to last.
We offer full preparation services, including wire brush cleaning, waxing and anti-infestation treatment. Visit our finishes page for more information.
Come and browse our vast stocks of reclaimed oak beams in our large yard in the Sussex countryside. We're open weekdays 08:00-17:00, and we can open on weekends by appointment.
Whether you're planning something for the garden, something for the home, or even a full restoration or new build, we can supply reclaimed oak to suit whatever requirements you have. We can also provide all the advice you need to bring your ideas to life.
Reclaimed Oak Shelving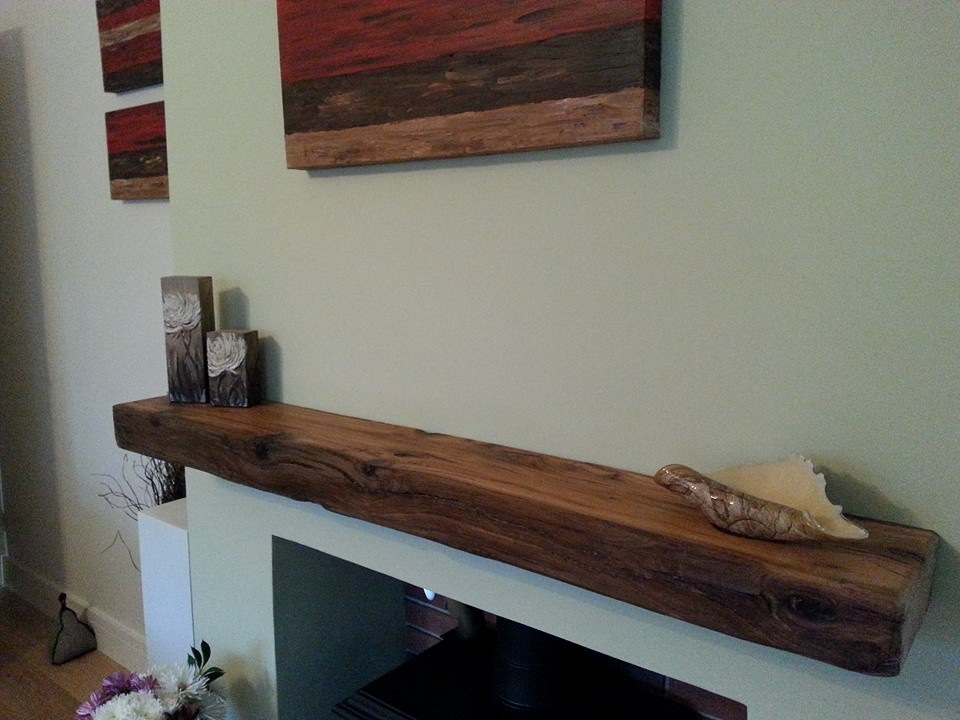 Reclaimed oak shelving will add character to any room. It can make your book collection look like a real library, and your kitchen or bathroom like a rustic, yet luxurious, retreat. You can even use it to build a mantelpiece that'll make any fireplace feel considerably cosier.
All reclaimed oak is steeped in its own unique history, and the wood is so dark and characterful that you can tell at a glance that this rich heritage is authentic. That's why reclaimed wood is a popular choice for many interior design projects. And as oak is innately durable and resistant, it's the perfect material for furniture that's built to last.
Reclaimed Oak Boards and Planks
As well as beams, we also stock, sell and deliver reclaimed oak boards and planks to suit any purpose. Reclaimed oak boards can be used to build tables and work surfaces, as well as flooring.
Reclaimed oak planks are perhaps even more versatile. From flooring to mantel pieces, from shelving to benches, it's probably fair to say that the only limit to their use is your ambition.
Call us on (01825) 723 648 or complete our contact form and we'll be happy to give you a free estimate.
Prices – How Much Do Our Reclaimed Oak Beams Cost?
The amount you pay will vary depending on the size and complexity of your project, as well as any additional services, finishes and effects that you require.
Every piece is priced by the cubic foot, so you'll pay by volume of timber. If you want something in a non-standard size it may have to be cut from something larger.
For a free estimate for your project, please call us on (01825) 723 648 or complete our contact form.
Delivery across the UK and internationally
Get reclaimed oak beams delivered direct to your door. Our delivery service is as bespoke as our supply service – we'll tailor a solution based on your specific needs.
We try to make our deliveries as efficient and economical as possible. For smaller beams we can dispatch to your door using a courier. But if we're delivering a lot of timber across a larger distance, we'll either use our own vehicle and driver or a specialist haulage firm, whichever is most cost and time efficient.
Get a wonderful new look for your home at a competitive price. Get in touch today for a free quote and some expert advice on how to make your project a lasting success.
For a free estimate, and for our expert advice on finding the perfect reclaimed oak beams for your project, call us now on (01825) 723 648 or complete our contact form.