At Traditional Oak and Timber we are able to supply a vast array of oak components and oak beams, but we also have a very good stock of flooring
The age and history that comes from a reclaimed oak floor are, in our opinion, second to none … however, we are a little biased!
These reclaimed re-sawn oak floor boards when laid have been waxed to bring out the grain. As you can see from the pictures the boards come in random widths, ranging form 7″ – 12″ wide.
Re-sawn oak flooring is sawn from reclaimed oak beams. This gives you the age and character of centuries old oak. We select reclaimed oak beams that we feel will have the most to offer in the way of solidity and character when sawn.
The beams are then cleaned and de nailed if required. When we saw the oak we try to keep an average of 32-35mm of thickness. The boards are then straight edged and machined. We machine to 27mm to smooth them and give the boards a half lap rebate either side, this allows the flooring to be uniformly laid. We are also able to supply hand forged rose head nails, so when fitting the flooring you are left with a most authentic feel.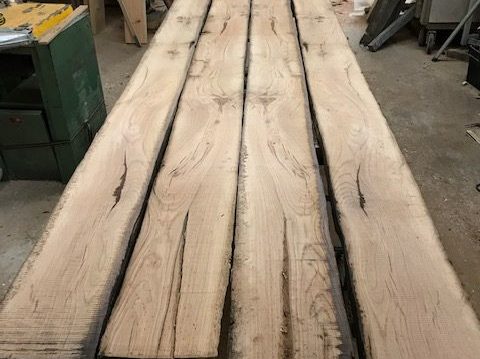 Reclaimed Antique Oak Floorboards
At Tradoak, we also stock of reclaimed antique oak flooring which comes in random widths and lengths. Being reclaimed from a previous home, this oak flooring has huge history. Some of the boards have the original "pit sawn" marks to show they were cut by hand centuries ago!
Because of the age of the boards and the different dimensions they come in, more often than not they do require some work or re-engineering to become a usable option. However, we do offer full regularisation and cleaning processes to whatever extent you require. The key to this is to be able to give you the ease to fit a newer floor but to keep the character of the oak without losing the beauty of a reclaimed oak floor.
The photos below show old antique floorboards which have been cleaned and ready to be dispatched.
We have a vast stock of reclaimed and new oak floorboards for you to choose from, for a free quote please contact us.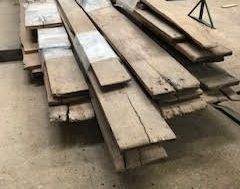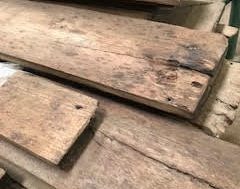 The Old Woodyard,
Bluebell Business Estate
Sheffield Park,
East Sussex,
TN22 3HQ