Although we are 'Traditional' Oak and Timber Co, we can supply oak beams to fit in with even the most modern of home decor! We have a large selection of oak fireplace beams and mantels suitable for any fireplace, whether natural or cleaned, curved or straight. These fireplace beams will create a magnificent feature in any room.
For expert advice and a free estimate, call us now on (01825) 723 648 or complete our contact form.
Oak Fireplace Beams
Come and browse our vast stocks of fireplace beams in our large yard in the Sussex countryside. We're open weekdays 08:00-17:00, and on weekends by appointment.
If you can't get to our yard, just tell us the size and 'look' you need, and we'll email you some photos of our choice selections. That way you can get the perfect beam for your fireplace without having to travel to us.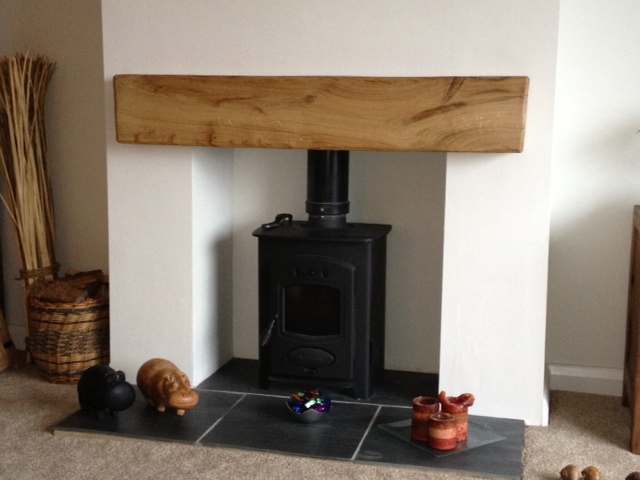 Oak fireplace beams are available in air dried oak or, for an even more rustic look, historic reclaimed oak. If you need advice on fitting your new oak fireplace beam, don't hesitate to ask. You will receive all the advice you need! Also, we can provide you with a fitting kit. This includes threaded steel rods, fixing resin, and even the necessary holes drilled by arrangement.
Take a look at our fireplace beams gallery to see some examples of how our oak fireplace mantels can transform the look of any room.
Bespoke Oak Fireplace Beams
If we don't have the perfect fireplace beam readily available in our yard, we can machine and fabricate precisely the shape you need to bring your vision to life.
Choose from a full range of services and finishes, including cleaning, de-nailing, anti-infestation treatment and a varied selection of wax and colouring options. If you intend to run cables through your fireplace beam, or add light fittings, we can even do the hollowing for you. See our finishes page for more information.
Take a look at this bespoke oak fireplace beam gallery to see some examples of how our oak fireplace mantels can transform the look of any room.
Reclaimed Wood Shelves
As well as fireplace mantels, our oak beams are also perfect for making bespoke shelving. Reclaimed wood is a particularly popular choice for shelving, as the aged wood will add a huge amount of character to any room.
And because of the oak's innate durability and resistance, you can rest assured that whatever you build will be built to last.
Prices – How Much Do Our Oak Fireplace Beams and Mantels Cost?
The amount you pay will vary depending on the size and complexity of your project, as well as the specific type of oak beam selected and any additional services or finishes required.
For a free estimate for your project, please call us on (01825) 723 648 or complete our contact form.
Delivery across the UK and internationally
Oak fireplace beams and mantels can be delivered direct to your door. Our delivery service is as bespoke as our supply service – we'll tailor a solution based on your specific needs.
We try to make our deliveries as efficient and economical as possible. For smaller beams we can dispatch to your door using a courier. If we're delivering a lot of timber across a larger distance, we'll either use our own vehicle and driver or a specialist haulage firm, depending on what is most time and cost effective.
Get a wonderful new look for your home at a competitive price. Get in touch today for a free quote and some expert advice on how to make your project a lasting success.
For a free estimate, and for our expert advice on finding the perfect oak beams for your project, call us now on (01825) 723 648 or complete our contact form.