At Jules Moore Design we make beautiful and unique tables from centuries-old salvaged wood. Our tables have a beauty and depth to the grain that can only be formed as the wood ages over hundreds of years. Our tables are packed with features and life, and unique in pattern and shape like a fingerprint. The wood is very rare and each table has a rich history. We go to painstaking lengths to determine the year in which the wood was originally milled. Each piece comes with a provenance on a glass tablet describing its history and events in the world around the time the wood was first used centuries ago.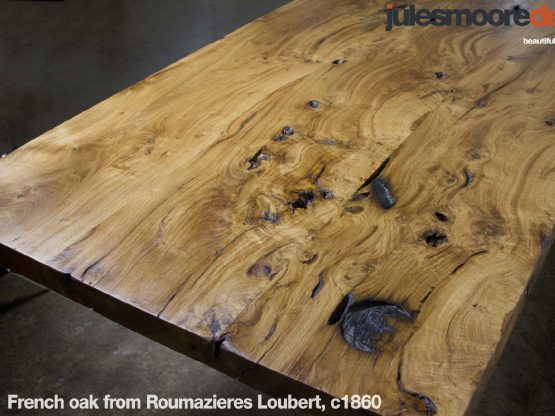 Quite simply we believe we make the best tables.
Jules Moore lived in London for several years before emigrating to Melbourne, Australia for nine years where he trained in furniture design. He now lives near Melton Mowbray, Leicestershire in the quiet rural village of Stathern with his wife Kirsty and their two beautiful children George and Bridget.
Jules Moore Design uses reclaimed oak exclusively from Traditional Oak and Timber Co for his oak tables.
We are very pleased that Jules had decided to use us for his reclaimed oak supply, as you can see here his passion and quality of workmanship are second to none. For a full range of products please contact either Jules directly or alternatively contact us.