Oak is a really versatile when it comes to colour schemes in your home. But before you think about colours, you need to decide whether you want the oak to be a main feature in your décor, or if you want it to blend in with the rest of the room.
To make oak a feature or not
If you want to make your oak woodwork stand out, the key is to choose colours that are in contrast to the woods natural hues. Oak with yellow and orange undertones for example, will 'pop' against colours with blue or purple undertones.
However, if you want the oak to blend in with the décor, then look to colours close on the wheel to yellow and orange, for example colours with a red or green undertone.
Bring home the earthy tones
If you want your oak woodwork be part of your colour palette, then stick to earthy tones. Oak sits perfectly next to stone greys, terracotta, and creams. This can then be accented with golds or coppers.
Then add some colour to the room with big green leafy plants like a Rubber tree or a Ficus. If you aren't particularly great with plants, then there is no shame in faking it with artificial plants.
Soften the room and add some warmth with neutral toned soft furnishings, like a rug, or an old arm chair.
Keep it simple with white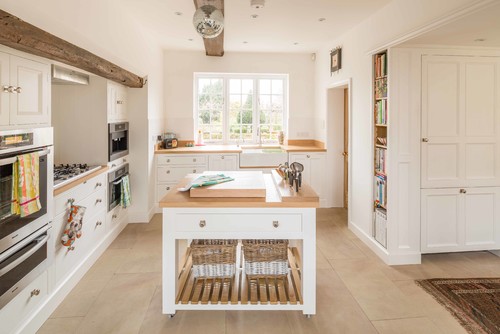 White and a lighter oak make a lovely pairing. It keeps the room light and airy so is a great option if your room is on the smaller side. Depending on room and style that you are aiming for, this could add a lovely country cottage vibe to a kitchen.
If you want to make the oak pop even more against the white, then choose a shade with a blue or purple undertone. Alternatively go for a pure white, or one that has a slight yellow tone to it.
You can then accessorise the space with whatever you like, it's basically a blank canvas. For a more rustic feel add rattan baskets and textured fabrics, like deep woven rug, or a faux fur blanket. Alternatively, keep it minimalist and use your accessories to add seasonal pops of colour.
Greige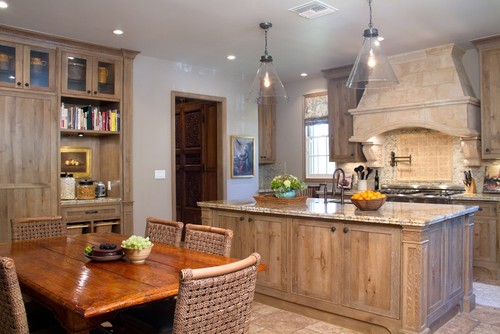 What exactly is greige? Well it's a warm grey that is verging on beige. The colour is picking up momentum in homes all around the world, due to peoples love for more neutral tone as they often make a space more versatile and dynamic. Especially if you are someone that likes to frequently change up a room with seasonal accents.
Greige is very versatile and works perfectly with all tones of wood – for example French White Oak, would go wonderfully with a more blue hued greige, whereas a more yellow oak would work perfectly with a warmer tone.
Share your dream oak colour scheme with us, we'd love to hear about it!