Ceiling Casings
These ceiling oak beams are actually oak casings around steel RSJs. We visited the site to measure the dimensions the oak beams would need to be.
The customer wanted to the room ceiling to look traditional but still fresh. With this in mind the decision was made to go with air dried oak beams to keep the colour fairly light but still have a traditional rustic feel.
Hand Selected Oak Beams
After design decisions and measurements were taken we hand selected the oak beams for the job and began hollowing them out. The hollowing process requires the centre of the oak beam to be removed; this is done to begin with by chainsaw and then finished by hand with hammer and chisel. When hollowing for cladding we have to make sure that there is at least 2 inches (50mm) left on the oak beam to keep the strength in the oak beam itself but to also keep rigidity.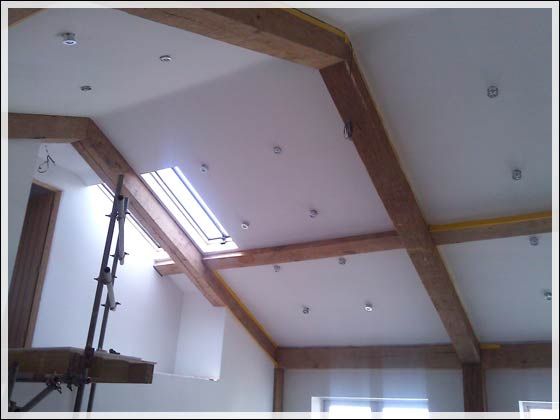 Delivery included
We delivered the oak beams as part of the service and had a site meeting with the builders to give advice and guidance to fitment.
As you can see, now the oak is fitted it really gives the room a great look. Making a very grand room for what will be a very grand residence.
For info on oak beam supply and hollowing please contact us.