The Perfect Sun-Room
With many more people seeing the benefits of improving over moving, finding new ways to add space, value and beauty to your current family home can make you fall in love with it all over again. Over the past couple of years, the trend for adding a sun room has been going from strength to strength and it's not hard to see why these rooms appeal to so many people.
Thanks to more relaxed planning laws, it has never been easier to apply for and be granted permission to extend your family home. Sun rooms are one of the most popular home improvement projects undertaken as a sun room can be an incredibly versatile space. As well as allowing you to bring the outdoors inside on beautiful summer days, a sun room can be the perfect place for the little ones to play during the day before becoming a much cosier and more intimate space in the evenings.
Going for a vintage-inspired or warm cottage style can bring a real touch of elegance and old-world glamour to your new quarters. Adding a dining table or comfy love seats also means you can entertain guests in a much more informal setting; and with the doors open on a warm August evening, you can enjoy the al fresco dining experience with the option of shutting the world out once the sun goes down.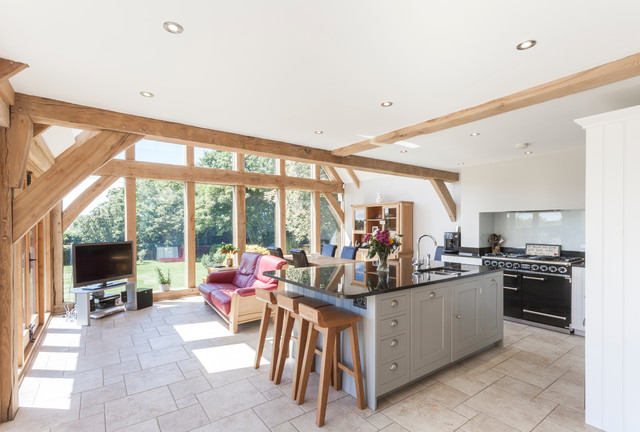 Choosing the right building materials is key to shaping the perfect indoor/outdoor feel to your sun room. As well as having the wow-factor in terms of appearance, oak is an incredibly versatile building material which can help shape a truly magnificent extension which is entirely unique to you. A bespoke oak framed structure such as this one we previously have done can make your sun room the focal point of your home, with the high quality air dried wood giving warmth and genuine character which other building materials simply cannot achieve.
There is a timelessness to oak which cannot be replicated and which lends itself so well to this purpose. Your sun room should bridge the gap between your home and the great outdoors, and with exposed, traditional oak beams and large encapsulated glazing, you can craft a stunning new living space which will give you and your family many more years of happiness in your home.