Kitchen Oak Transformations
Over the centuries, the kitchen has slowly morphed into the epicentre of the home. And it's no surprise really - gone are the days when the household kitchen was used purely for the preparation of meals. Nowadays, it is the go-to destination to sit and eat, carry out activities with the kids, congregate for family gatherings and to entertain guests.
They are no longer industrial, sterile areas - rather, lively, family-oriented utilitarian spaces filled with positive energy. It is this, perhaps, which has resulted in many dubbing the humble kitchen as the true "heart of home".
That in mind, we've drawn together a few inspirational concepts which will help you transform your kitchen and bring your heart of home to life.
Exposed oak ceiling beams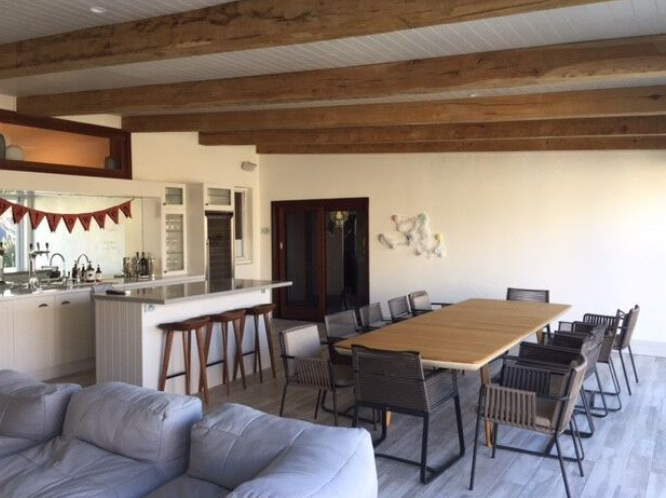 Whether modern or traditional in appearance, oak has the unique ability to bring a contemporary twist to any home.
The rustic beauty of exposed ceiling beams convey a cosy, homely feel. In a period property, oak beams provide an essential load-bearing function as well as boasting aesthetically pleasing features. Modern households can incorporate rich oak beams to help complement the clean, sharp qualities of more urban environments.
One of the most popular choices for such interior redesign are reclaimed oak beams. These beams are typically sourced from old houses or barns, and instantly bring an authentic, rustic feel to the home. Reclaimed oak has plenty of character and works particularly well in listed buildings due to its dark tones and distinctive aged appearance.
Another option are air dried oak beams. More often used in construction projects, they may also be used to add aesthetic elements to a building. As the name suggests, these beams are left to dry naturally in the air to reduce moisture levels. During this process, the oak naturally shrinks and cracks, producing a pleasing appearance of natural, rustic character.
Oak tables and worktops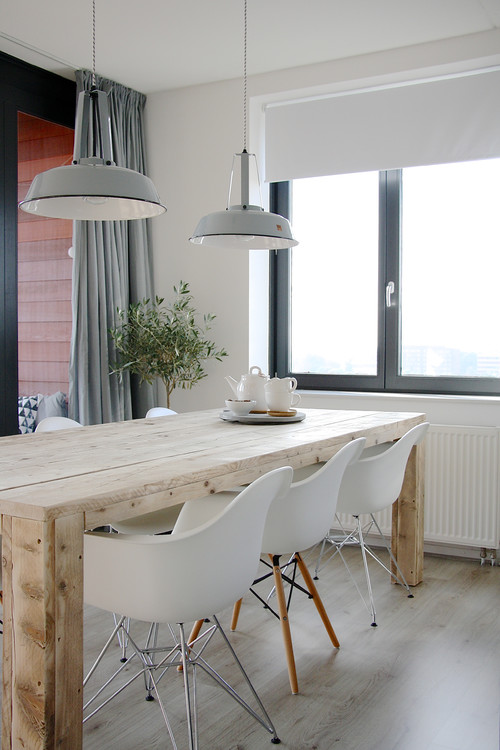 What better way to transform your kitchen from a simple food prep station to a desirable location for the whole family to congregate, eat, laugh and make memories than a beautiful dining set?
Oak tables are durable, classic in appearance, and sure to become the focal point of any kitchen. Oak boasts rich, warm tones and unique markings which gives it a real sense of natural beauty. Oak also boasts the ability to be maintained and enhanced, unlike other materials which don't age as well over time.
Oak flooring

Oak flooring is always a popular choice in the home - cleaner and more practical for a kitchen than carpet, wood possesses that warm, homely finish that just can't be trumped by the slightly colder, harder stone floor or brickwork.
Of all the wood flooring options available, oak is by far the most sought after. If your priority is getting a high-quality wood with a timeless look and feel, oak is the way to go.
One of its best qualities is its durability. As a hardwood, oak has established extreme credibility over the years. And, like a fine red wine, oak improves with age meaning that even age-old reclaimed oak becomes richer and more attractive in colour as time goes on as well as maintaining its strength.
If aesthetics are your drive, oak provides a very attractive grain that is perfectly suited to flooring. Because of its popularity, there is an abundant array of styles and grades available meaning that you're almost guaranteed to find your ideal finish.
If your heart of the home needs an oak-themed revamp, get in touch and let us give you a free consultation!