Oak beams provide instant charm and durability to any structural project
Reclaimed Oak Framed Projects
Our reclaimed beams can be used as beautiful additions to existing homes, garages and extensions, and as the foundational framing for a completely new build to give an authentic 'aged' or 'Tudor' feel. We work closely with both architects, structural engineers and you, to ensure everything is built to last.
In addition, we can provide you with 3D designs to help you visualise your project before we start to work together.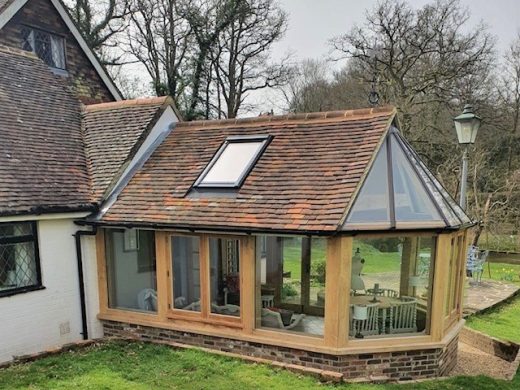 Structural Air-Dried Oak Beams
At Trad Oak, we specialise in the supply and delivery of structural oak beams which can be used for a huge variety of projects, from large oak-framed buildings to fireplaces, tables, shelves and smaller decorative pieces.
We have a full range of services and finishes, including cleaning, anti-infestation treatment and a varied selection of wax and colouring options.
Come browse our timber yard in the Sussex countryside. We're open weekdays 08:00-17:00, and weekends by appointment.